Searching for a global e-invoicing support system? Challenge accepted.

The "E" stands for easy.
E-invoicing offers significant benefits to any business. But there are plenty of challenges standing in the way of you and success — especially when it's on a global scale. With decades of experience under our belt and robust global infrastructure in place, Esker provides your company precisely what's needed to make your move to e-invoicing a triumphant one.
Lower costs, faster payments
Interoperability with any system
Flexibility with customers & suppliers
Global compliance in over 60 countries
Stay 100% compliant with all e-invoicing requirements.
With many governments and large corporations requiring e-invoicing, companies must adapt if they want to get paid. Esker helps you achieve global compliance in whatever technology you choose:
E-SIGNATURES
Through its Sovos partnership, Esker applies the appropriate e-signatures, time stamps and verifications in over 60 countries.
BCAT
From receipt and posting to dispatch and e-archiving, Esker's audit trail and reporting capabilities keep track of all customer orders.
EDI
Esker provides data formatting in the appropriate format (XML, EDIFACT, ANSI, etc.), secured exchange via any communication transport (AS2, VPN, SFTP, etc.), and interoperability with any platform.
ARCHIVING
Fully compliant with the EU Directive and the Sarbanes-Oxley Act, Esker's e-archiving solution protects all invoices via a separate, secured infrastructure and web portal.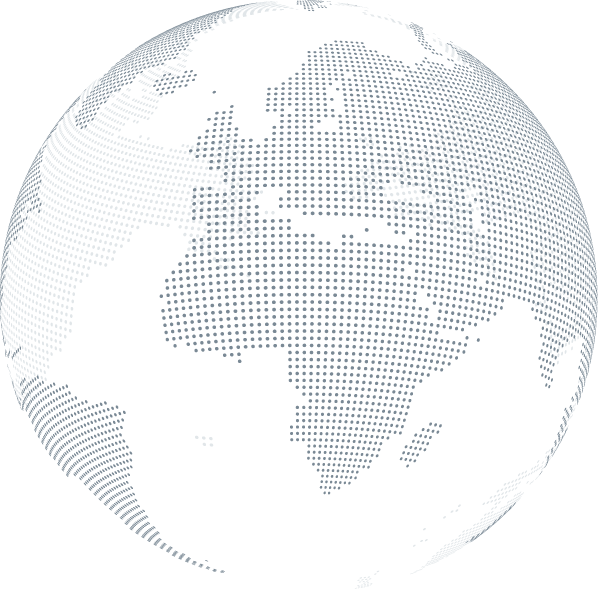 12 Tips to Boost E-Invoicing Adoption
Finding Success with the Right Strategy

Unique e-invoicing benefits for AP leaders
The supplier side of e-invoicing can be just as crucial as the customer side. When it comes to choosing an e-invoicing solution that can support a secure, collaborative and highly effective AP e-invoicing environment, Esker has the bonafides to get the job done the right way, right away.

Expert support for shared services centre initiatives

Customisable KPIs & on-the-go review & approval functionality

Multi-lingual capabilities & template-free technology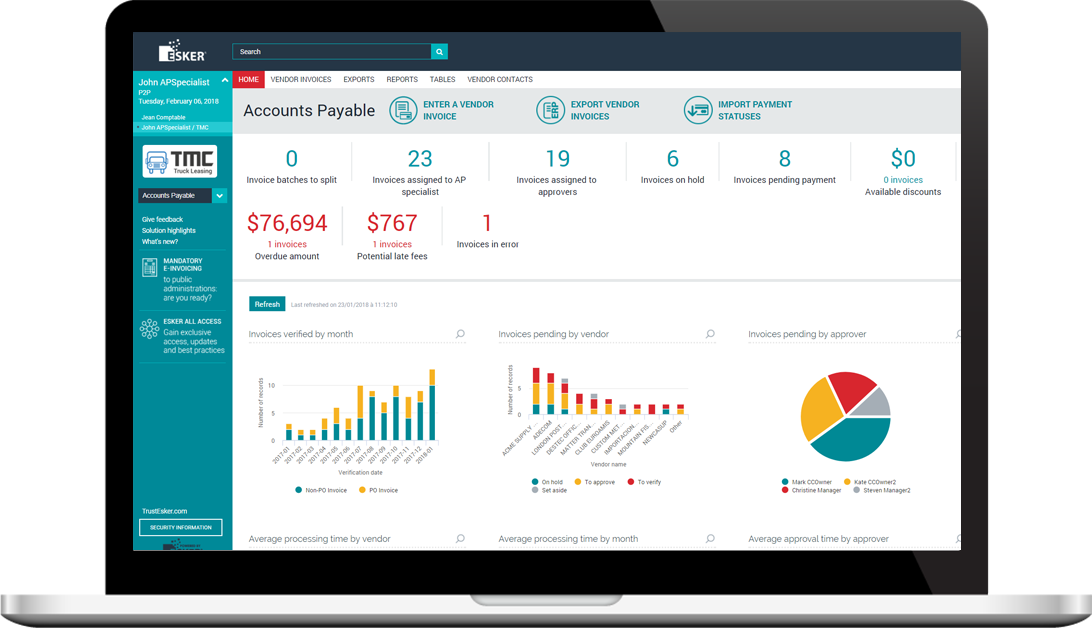 Support for European e-invoicing mandates
The EU Directive on e-invoicing and public procurement (2014/55/EU) gives countries the opportunity to implement local legislation requiring vendors to send e-invoices to public administrations (PA) with the goal of making e-invoicing the predominant invoicing method in Europe by 2020. Other countries, such as Italy and France, have gone even further by mandating B2B and/or B2C e-invoicing for local businesses.
Esker helps companies deliver e-invoices in compliance with all the unique specifications of European countries. This includes processing any format (e.g., PDF, UBL, Facturae in Spain, Fattura-PA in Italy, etc.), communicating with PA platforms (including PEPPOL) to send e-invoices and provide status updates, and providing e-invoice archiving that's compliant with the EU Directive and regulatory frameworks.
Learn more about mandatory e-invoicing in France, Italy , Spain, Portugal and Germany.
Ask us anything.
Is moving to e-invoicing on your company's wish list? Esker experts are always
here to answer any question or provide more info — just say the word!

Frequently Asked Questions
1. What does e-invoicing mean and is it secure?
E-invoicing (electronic invoicing) is an automated process that allows companies to create, send and receive invoices electronically using dedicated software or solutions. This removes the need for printing and mailing traditional paper invoices, streamlining the whole payment process.
Transacting e-invoices on the Peppol network will connect the seller and purchaser directly. The e-invoice will also be sent using an electronic standard and delivered directly to your Peppol registered customers in the network, following industry standard security protocols such as SSL encryption so that personal details cannot be intercepted by third parties during transmission.
2. If I am a current Esker customer, are there any changes in the current workflow?
Esker customers will benefit from the Peppol e-invoicing software without any changes to their current process if you are using Esker Account Payable on Demand. For Account Receivable customers, you are eligible to activate the Peppol format and start transacting with other businesses on the network. To activate this option, please contact your Esker representative by email at info@esker.com.my or call +60 3-2781 8590.
3. How do I track how many invoices we have used?
You will receive a monthly report giving you the details of your Peppol e-invoices activity (invoice sent and received).
4. How can Esker help with the e-Invoicing initiative in Malaysia?
Esker's technology helps businesses get the tools that they need to approach Malaysia's e-Invoicing initiative implementation in 2023 with ease. We can provide your company with everything you need to make your move to e-invoicing a triumphant one. As a certified solution provider of InvoiceNow in Singapore, also known as Peppol, Esker sends and receives Peppol invoices seamlessly through our Accounts Payable and Accounts Receivable solutions.
5. Which software is best for e-invoicing?
Finding the right e-invoicing software for your business is an important decision, as it can help you streamline your invoicing process and save time and money.
Peppol (Pan European Public Procurement On-Line) is one of Europe's largest providers of business-to-business electronic invoices. The cloud-based solution simplifies invoices, making them easier to create and send worldwide over a secure network. It offers features like automated checks on required data fields that ensure accuracy across invoices; real time validation of vendor details; streamlined processes for invoice creation and approval; automatic archiving; centralised access control; automated currency conversion services, among many other benefits.
6. How can I generate e-invoices?
The most popular form of e-invoicing is using an electronic invoicing solution such as Peppol which provides an integrated platform for creating, sending and receiving electronic documents such as the invoice.
Generate e-invoices by purchasing a Peppol prepaid pack to connect your company's accounting system which will enable automatic transmission of payment details. After that, it's simply a case of selecting customers from drop down lists within the system; this allows all details associated with each customer to appear on screen automatically thereby greatly simplifying the document creation process.
7. Is e-invoicing the same as EDI?
E-invoicing and Electronic Data Interchange (EDI) are two distinct technologies that can both facilitate digital invoicing, but their primary purpose and how they accomplish their goals differ.
E-invoicing is a method of issuing and receiving invoices electronically as an alternative to traditional paper invoices through the use of electronic software or an online e-commerce platform. E-invoices provide businesses with a simpler, centralised solution to manage financial transactions. An e-invoice can be sent directly from the seller to the buyer in a secure manner with all of the necessary information already included – a massive improvement over traditional paper invoices. Furthermore, since e-invoicing solutions often integrate with business accounting systems, data entry becomes more automated and streamlined.
On the other hand, EDI is another form of digital transaction processing technology used primarily for exchanging documents between trading partners such as suppliers or customers using standard formats like XML or PDFs which contain information about products being sold or purchased by each partner. This type of network allows for easy communication without manual entry work and ensures accuracy by minimising human intervention in the process.
You're in good company. Explore some of the other companies and AP leaders that have benefited from automating their processes with Esker.