Why automate with Esker?
Cash is the lifeblood of every business, yet it's put at risk by the unpredictability and volatility of credit risk. This puts more pressure on credit teams to control and mitigate credit risk and secure cash. Esker Credit Management optimises the entire risk management process, by:
Optimising & securing your team's customer onboarding process
Automating all "business as usual" credit decisions
Empowering staff with actionable data to make faster, smarter decisions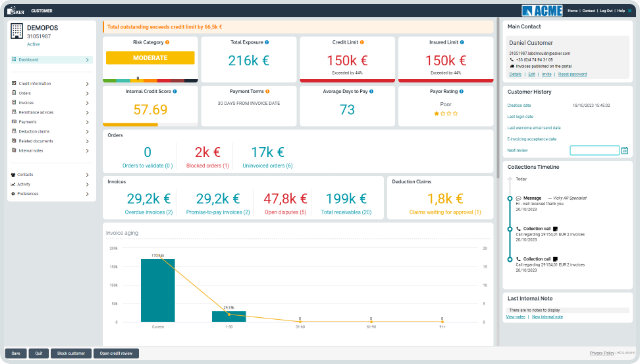 "We're doing a number of reviews a month and processing all our open accounts and applications. My team love using Esker Credit Management and being able to make educated credit decisions." Make smarter credit
decisions, faster
Constantly evolving customer and business situations require credit teams to make a myriad of critical decisions (e.g., updating credit limits, managing blocked orders, onboarding new customers) all with one objective — continue securing revenue.
Rather than relying on a fully manual process, Esker Credit Management allows credit teams to focus on where they bring the most value (i.e., dealing with actual risk) by:
Calculating risk automatically with a customisable scoring model combining any internal & external risk indicators like credit agencies' data
Identifying risk & enabling credit teams to automate all "business as usual" & low-risk decisions through customisable approval workflows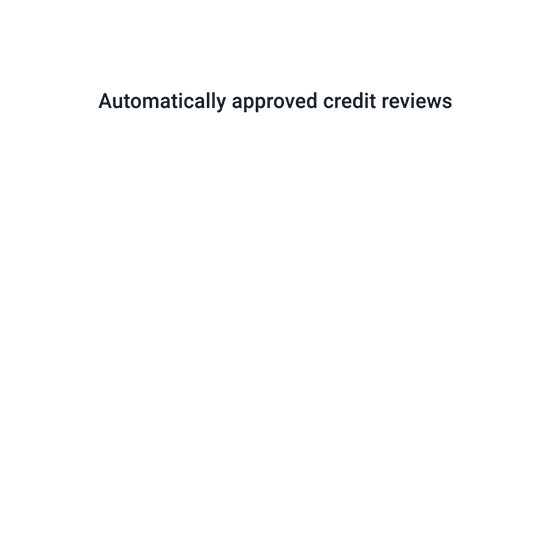 Simplified credit reviews
The right data, right when you
need it most
Not every decision can be automated. When a change occurs potentially impacting a customer's ability to pay, credit teams are notified in real-time, triggering credit reviews. But considering the number of sources to check (e.g., ERP, CRM, credit agencies, Excel sheets to calculate risk), a little simplicity goes a long way.
Esker Credit Management delivers exactly what your team needs in a single, user-friendly interface:
End-to-end visibility on customer risk & business situation during credit reviews with centralised customer KPIs in one page (e.g., risk category, business history, credit bureau scorings)
Customisable internal scoring model to automatically determine level of risk for all customers
Suggestions of credit terms powered by Esker Synergy AI
Easy internal collaboration to start conversations with coworkers to get more details on customer situations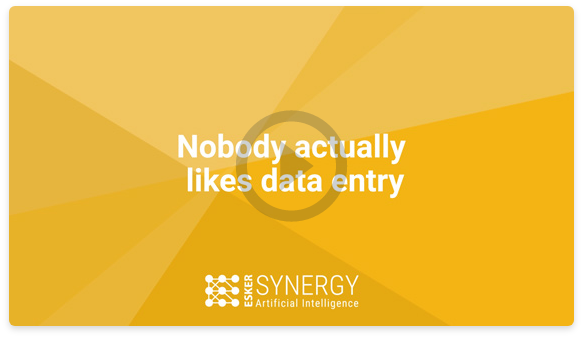 Customer onboarding
Easy, secure, everything
you've always wanted
Seeking an easier way to onboard customers? Wishing that making consistent credit decisions while maintaining customer relationships and lowering risks wasn't such a pain? Say no more. With or without credit applications, Esker's got you covered to securely onboard all customers.
Digital credit applications

Create credit application templates & send them via email, embedded link, or included in sales quotes or communications.

Automated references check

Configure automatically sent messages & reminders to trade & bank references, while monitoring replies/calls to make via the dashboard.
Third-party data integration

Retrieve key scoring from your preferred credit bureaus (e.g., Altares Dun & Bradstreet, CreditRiskMonitor, Ellisphere, Experian, Creditsafe)

Approval workflow

Configure the required level of approvals to secure the credit process for both new credits & credit reviews
Release blocked orders in no time
Releasing orders can be overwhelming to your credit team — not with Esker! Leveraging the latest and greatest in AI technology, Esker's solution helps you and your team facilitate a smoother process with fewer "pile-ups" of blocked orders, more time to focus on the riskiest cases, improved customer satisfaction and more cash in receivables.
How it works:
Esker automates the release of blocked orders according to your rules and provides suggestions powered by Esker Synergy AI.

Facilitate collaboration when necessary — with other teams or with customers via chat tools, request a call button, etc.
Users can release blocked orders in a few clicks thanks to end-to-end visibility on the customer's business and risk situation.

Import and push blocked orders to your ERP in real-time thanks to Esker Connectivity Suite.

Enhanced collaboration
Turn your credit team into
true business partners
Successful credit starts with successful sales. Translation: Collaboration is essential. Esker Credit Management fosters a truly collaborative environment between sales and credit teams with tools that help them both:
Request credit checks in a few clicks to anticipate potential risk together
Gain visibility into customer risk situations at any time via the customer management page
Check customers' key credit indicators (e.g., credit limit, risk category) & request credit checks on prospects & customers using the Esker Anywhere mobile app
Trigger internal conversations at any time during a credit review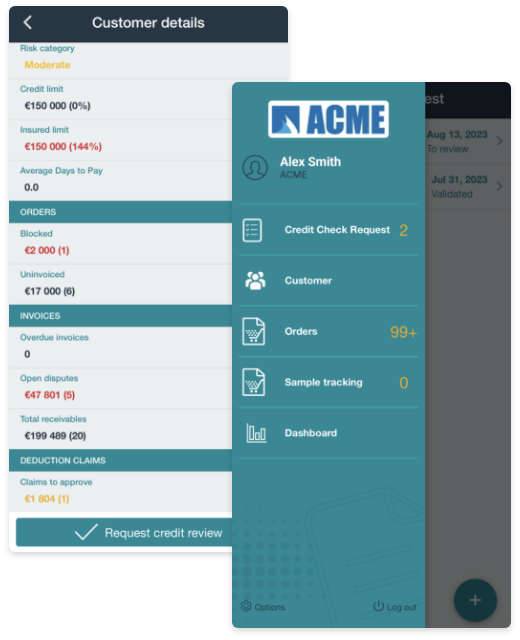 Make the most out of credit
& collections data
Credit and collections teams are more powerful when working together. Using Esker Credit Management and Esker Collections Management solutions in conjunction allows you to boost the value of your data to make the best possible decisions and benefit from capabilities like:
Sharing credit risk categories based on credit agencies' data in real-time with collections management
Populating internal credit scoring with payment behavior indicators from collections management
Defining collections strategies based on risk by leveraging credit agencies' scoring
Pushing credit limit in real time to collections management
You're in good company. Explore some of the other companies and AP leaders that have benefited from automating their processes with Esker.